When it opened in 2012, our Tunbridge Wells location quickly became known for its high level of service, but we now offer so much more than that. We're the go to company for Tunbridge Wells Mac Support and sales. After starting with a small shop in The Pantiles, we quickly grew and moved to a bigger location at 6 Goods Station Road. Our team of expert MacMen (and MacWomen!) specialise in iDevice and Mac repairs, sales, training, and Mac support for business and home.
If you don't have time to pop in the store for a chat, you can always contact us via email or social media. You can also look for your next iMac or MacBook on our online store.
MacMan News – Our third store is now open for repairs, sales and support in Horsham.
OPENING HOURS
Monday – 9.00 to 18.00
Tuesday – 9.00 to 18.00
Wednesday – 9.00 to 18.00
Thursday – 9.00 to 18.00
Friday – 9.00 to 18.00
Saturday – 9.00 to 17.30
Sunday – CLOSED
CALL OUT CHARGES
You can view and search our callout zones by visiting this interactive map.
Zone 1 – Free
Zone 2 – £10.00
Zone 3 – £20.00
Zone 4 – £40.00
Outside of the above zones – £45.00 per hour of travel
PARKING
Luckily there is a decent amount of off street parking nearby. The nearest car park is Meadow Road multi-storey. A quick dash across the road and you'll be at our shop.
Alternatively you could park at the Royal Victoria shopping centre.
Check out the reviews on
They've only gone and done it again! I asked them to repair the cracked screen of my iphone quickly as it's critical for my small business. When I got it back about three hours later, they had also fixed the audio problem that I hadn't even mentioned. I'm going to have to give them 5 stars again now.
Memoriant Celebrant Services
30/10/2019
Very friendly and efficient service from these boys .. and Apple parts used for the repair. Good follow up service too.
Rick Brookes-Smith
30/10/2019
I had a problem with my mobile. This and my previous experience with MacMan have been very positive. They are friendly helphful and offer a great and professional service. Would highly recommend.
Jennifer Children
28/10/2019
Very good communication. Sorted our Grandaughters MacBook Air quickly and not too expensive (much cheaper than we thought)
Peter and Sue Skitt
16/10/2019
Friendly and knowledgable staff. Regrettably my IMac was beyond repair, but I purchased one of their pre-owned examples which was in as new condition and they migrated all the data from my old hard drive across to the replacement machine. Now I'm up and running again. All very reasonable on price and would highly recommend to anyone in need of troubleshooting an Apple computer.
Mike Goodfelow
09/10/2019
First time user and very impressed. The staff are friendly and helpful. Service was quick and the problem was fixed in a few days it was only a minor problem but my teenager appreciates the swiftness of getting his ipad back. The rates are very reasonable and they are now my go to for repairs. Keep up thegood work guys you are all awesome.
Have an old MacBook Pro which was going slower and slower and slower - really very slow!Visited MacMan to ask if they might cure the problem and at what price.They explained that they thought they knew what the problem would be - and explained that they could improve the speed but not to lightning fast (it is an old machine).On that basis I agreed the work - and the price.Took the machine in on a Monday and it was ready to collect on the Thursday. Price as the original quote.Very happy with the result. It has saved buying a new laptop and it now works at a reasonable speed.

The staff were helpful and polite, the communication was prompt and clear and my laptop was returned fixed and in perfect condition. It felt expensive but was actually pretty reasonable for the work that needed done and was much cheaper than replacing my mac which was the other option.
Lucifer's daughter
14/08/2019
MacMan is definitely the 'go to' place for me for all things Mac. You know what it is like when something unexpected happens and suddenly all that work you have spent months producing just disappears. OK, you know you have it all backed up but where could it have gone? Of course it took MacMan 5 seconds to analyse why and where and another few moments to get it all back up and running. Such a relief. Maybe I should have known, but rather than spend an age fiddling about and/or searching the internet, a short drive and a small wait and a modest bill - all done!
Christopher Sugg
11/08/2019

Write a review for MacMan Tunbridge Wells
Meet the Tunbridge Wells Mac Support Team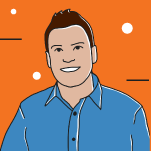 Since joining MacMan in 2012 and opening the second MacMan workshop in Tunbridge Wells' The Pantiles later that year, his personal life has since described itself as a 'Xero Widow'. However he stills harks back to the drum kit playing days of his yoof… and promises to one day form a raw funk covers band AND a Primal Scream covers band. The latter to be called "Spinal Cream". His words, not ours.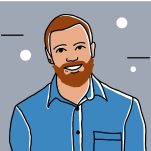 Our Tunbridge Wells Store Manager is a dedicated fan of the app Evernote and can often be seen tapping out notes on his trusty iPhone SE. The Tunbridge Wells MacMen aren't the only talent he oversees. As Sam is also the caretaker of 6 Goods Station Road's very fruitful chilli plant, he has a cockatiel named Wilson that sings the Imperial March on repeat and on demand, and his uncle invented the question mark.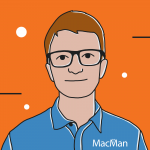 Dylan joined us as The Apprentice winner of 2016 and has since become a very respected full time member of the busy TW iDevice team. He is the proud owner of an IT Competency Certificate (Level 3 no less) and also holds the Kentish record for passing his theory driving test with the least amount of driving lessons, all while eating Gypsy Creams throughout. Legend.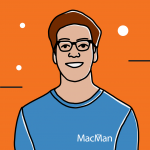 PJ's camera roll is full of photos he's tinkered with in Afterlight. His other talents include rock climbing, skateboarding, photobombing, and perfectly applying glass protectors on iPhone screens. He joined us as The Apprentice in 2014 and quickly became a Mac, iPhone and iPad legend.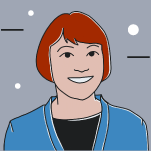 Loves nothing more than an organised file, a tidy calendar and a grammatically corrected communication. Norah is living proof that being a paid up, card carrying member of the Apostrophe Protection Society™  can actually be a help and not a hindrance in the workplace. She also claims to have never lost a sock. Ever.
MacMan – Providing Tunbridge Wells Mac Support to Kent Mac users since 2012. Of course, we venture further a field as well.