Don't you hate it when your computer says no? Well, have no fear – MacMan is here! Whatever your issue, MacMan is your local specialist for MacBook repairs in Sevenoaks.
Our on-site workshop is custom designed to allow our team expert to diagnose and fix Mac problems. From software crashes to screen replacements – we can help. You'll be surprised at how easily we fix the problem and how affordable we are.
Call us today on 01732 617 917
75 High Street, Sevenoaks, TN13 1LG
Over 1000+ happy reviews on Google, FB, and reviews.co.uk!
Fast and Reliable Mac Repairs Sevenoaks
Got a problem with your Mac? We can fix it! Due to our years of experience, there's nothing we've not seen before. We will quickly diagnose the problem and give you the best advice. Here's some of the things we can fix.
Screen Damage
Broken Ports
Dead System
Keyboard Damage
Liquid Damage
Overheating Issues
System Crashes
Hard Disk Faults/Data Recovery
And much more…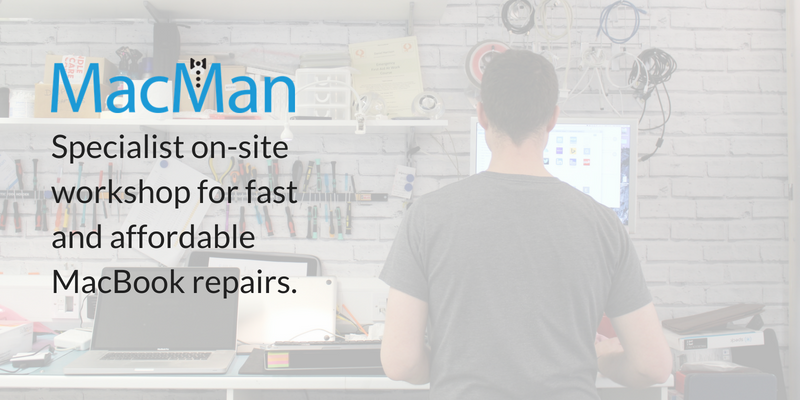 Walk-in MacBook Repairs
You can drop your Mac into our store any time over the issues you are having. Can't make it into store – no worries, give us a call or leave a message through our contact page.
Diagnosis
When we find the problem, we will explain it simply and help you make the best decision moving forward. You will always know how long the repair will take and there will never be any surprise hidden costs. Most repairs are fast, as we stock most parts in our dedicated workshop.
Costs
Our aim is to give competitive prices and exceptional value for all repairs and services. We always give a quote for approval before any work starts. You'll be safe in the knowledge that your devices is being fixed correctly and at a price which works for you.
Warranty
Our wealth of experience brings confidence to our work – all our repairs carry a standard 90-day warranty.
Storage/Hard Drive Upgrades
With many options to choose from, we will help you get the right storage for your system and your files and folders.
Memory/RAM Upgrades
Is your system starting to slow? You don't always need to buy something new, we bet a RAM upgrade could work wonders. Give our team a call to talk through the options for your Mac.
Sales
Looking for something particular in your next Mac? Check out our online sister company The Mac Store here. With a refurbished device you get a quality machine without the crazy costs. Plus there's next-day delivery available.