Whether you use the internet for work, shopping, homework, social media, web browsing, Netflix, email, music streaming – it's part of our everyday lives – and we just expect it to work. So when it doesn't, it can cause havoc – and with more of us working or spending time at home, our Wi-Fi is being pushed to its limit, now more than ever before.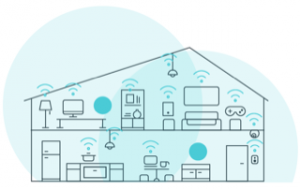 While most homes and smaller businesses can typically get by with a standard (usually free) Wi-Fi router provided by their internet provider, larger homes and organisations often require more complex, powerful solutions to give them a reliable, strong, seamless Wi-Fi connection.
Whether you need support setting up a simple home network, a more sophisticated business solution, or you just want some friendly advice, we're here to help.
We offer both business and home customers bespoke Wi-Fi Network solutions, installations and maintenance of:
Wi-Fi Extenders
Powerline Adapters
Wi-Fi Mesh Extenders
And don't forget our business plans which start at just £19 per person, per month.  We provide support to organisations (of any size) – unravelling settings, eradicating bugs, performing system updates and back-ups – and plenty more, however and whenever you need it, so you can focus on what's important. We're even offering a FREE 30-DAY TRIAL!