You don't realise how important your phone is until it develops a problem. If your looking for a quick and easy iPhone repair in Crawley – have no fear, MacMan is here!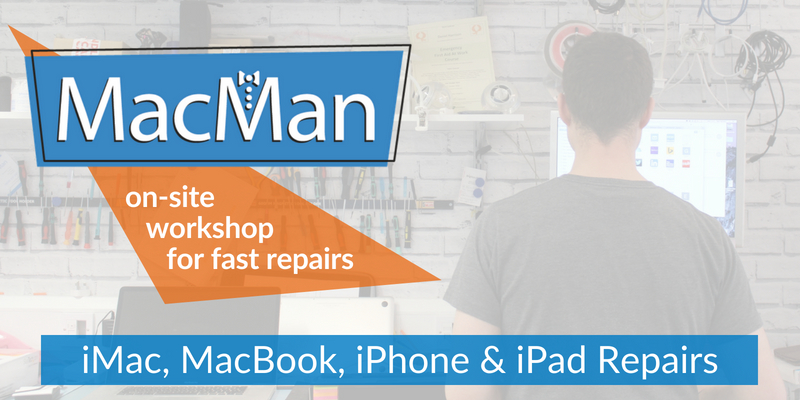 There is nothing our specialists haven't seen before, we can get your phone back to normal in no time. Whatever your iPhone issue, we are to the rescue. At MacMan Crawley we have an on-site workshop and a team of expert technicians who know everything about iPhones.
You'll be surprised at how cost-effective we are and how quickly we fix your phone.
Over 1000+ happy customers cant be wrong, just look at our reviews and testimonials.
Open: Monday to Friday: 09:00am – 18:00pm
We're always here to help. Get in touch with our team today – 01293 922 932
Unit 5 – Lloyds Court, Manor Royal, Crawley, RH10 9QU – click here for directions.
iPhone repair in Crawley – screens, batteries and more…
With our years of experience we can quickly tell what's wrong – here's a few of the things we can fix.
Screen Damage
Charging Port
Headphone Jack
Camera Replacement
Home Button Repair
System Failure
Liquid Damage
Battery Replacement
iOS and Software Crashes
Walk-in iPhone Repair in Crawley
Feel free to pop by our new store any time and speak with the team about your phone. Don't worry if you cant make it to our store, we are always available on the phone or you can message us on our contact page.
iPhone Fault Diagnosis
When we have found the problem with your phone, we will let you know the best actions and cost so you can make a choice before moving forward. With MacMan there are never 'hidden costs' – just a great service we know you'll be happy with. Most repairs are quick as our workshop stocks most parts.
Repair Costs
Its our goal to always offer competitive prices as well as a truly excellent service. Before we fix your iPhone we will give you a quote for approval. You can rest assured that your phone is being repaired at a price that works for you and by the true experts for iPhone repair in Crawley.
iPhone Repair Warranty
With our years of experience and a specialist team behind us we are always confident in or work – all our repairs have a standard 90 day Warranty
iPhones for Sale
Sometimes you want a new phone. We have many options for that too. We buy, sell and offer a trade-in service for a large range of devices. Give us a call today to see what we can do.
Looking for Mac repairs? Yep we do that too – check out or Crawley MacBook repairs page here.