Back it up!
We're often called for specialist data recovery. From coffee covered keyboards to hardware failure – we've seen it all, and recovered it all.
Many people still don't back up their data. It's heartbreaking 💔 when customers think they've lost years of photos. Luckily, we're great at data recovery! 💪
With that said, there's no reason for not backing up your data and Apple 'Time Machine" couldn't make it easier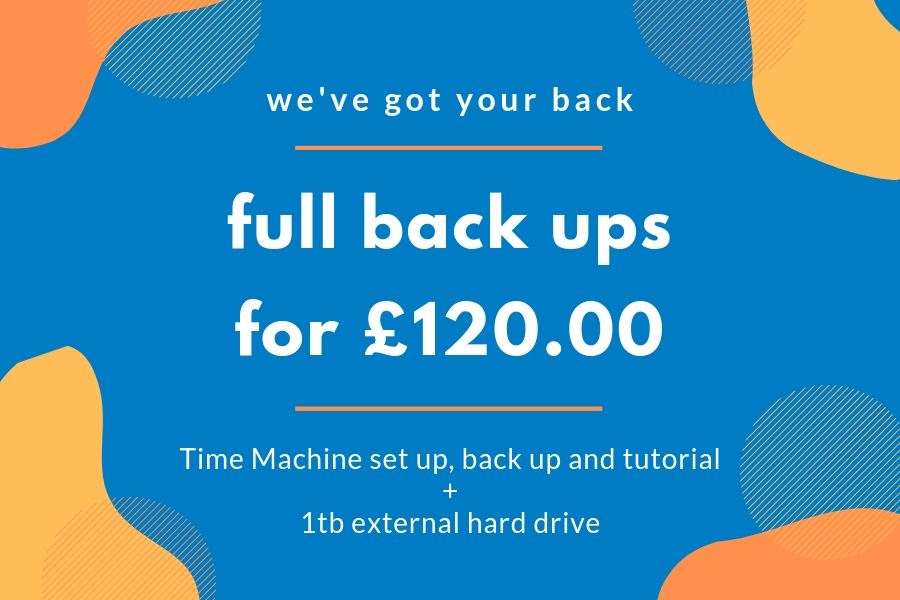 Need help with Time Machine?
We'll set it up, complete a full back up and teach you how. We'll also include a 1tb external hard drive of your data, all for £120.00.
Interested in our Time Machine set up, back up and tutorial?
Terms and conditions
Backing up takes several hours. Due to this, we only offer this service in-store and the device must stay in our workshop during the back up.
As devices have to stay in our workshop whilst they complete a back up, unfortunately, we can't sit with you. We recommend contacting your local store to book a drop off time and book your training session with our MacMan team.
If your back up data exceeds 1TB, you will need a larger hard drive to complete a full back up. This includes a higher cost. Please get in touch with the local team for an updated cost if your needs exceed 1tb.