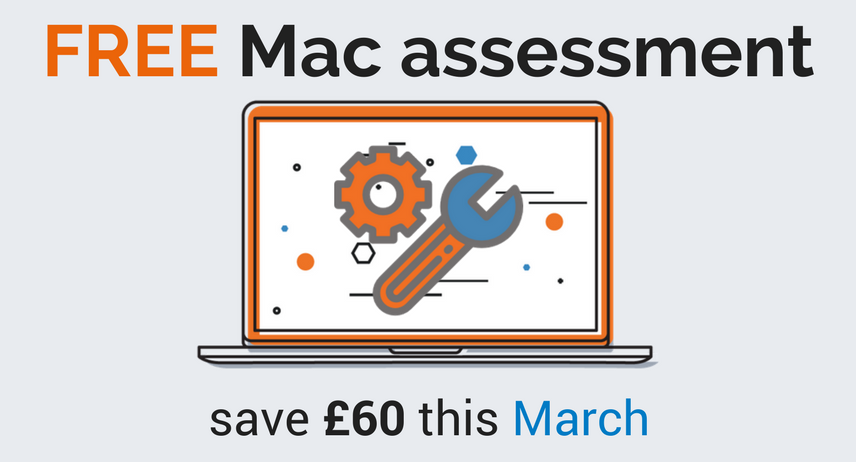 Is your Mac slower than a slow thing? 
It doesn't have to be that way…
Goodbye… Hello…
Say goodbye to restarts, faulty ports, sticky keys and headaches.
Say hello to a fresh Mac.
In March we are offering FREE Mac assessments! Yes, you heard that right, free assessments to get your Mac rocking like a superstar. No hassle, no fuss and no obligation. Our expert view on getting your Mac back to full health!
So what do you need to do? 
It's simple, pop your Mac into your nearest store. 
When? 
Anytime, no appointments necessary, just pop into either the Brighton or Tunbridge Wells store.
Please visit us at our either our Tunbridge Wells or Brighton locations. Your Mac will thank you.
Terms & Conditions: Until 31 March 2018 we're giving our customers free Mac assessments. This is to troubleshoot issues with your Mac and supply a no obligation quote for the repair. This offer is available in-store only and does not require a prior appointment. It is not available online or via an on-site visit. It does not cover Macs already in for repair with us prior to March 1st 2018. It is a Mac only offer therefore excludes iPhones, iPads. We aim to complete a full assessment within 1-2 working days, however turn around times may vary dependent on workload. Data recovery is not included in this offer. Insurance/write off assessments and reports for sale are not included in this offer. Liquid damage assessments are not included in this offer, additional charges may apply. We reserve the right to refuse a free assessment on a case by case basis.