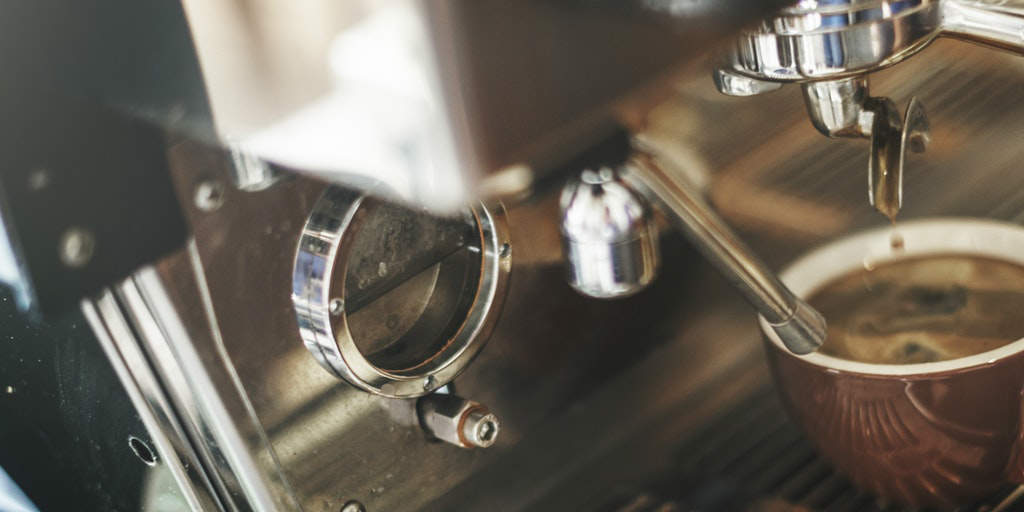 There's just something about cities by the sea that pulls in top creative talent from all over the world. Brighton, or 'London by the sea' as it's known, has firmly established itself as a thriving hub for freelancers and startups. Head to any of the best cafes in Brighton and you're sure to see people sat down with a latte and laptop combo.
Working in Brighton makes perfect sense: you have the sea, top restaurants and trendy bars all within walking distance of each other. And should you need to visit the Big Smoke, London Victoria Station is just an hour away.
We asked our Brighton store to list their favourite cafes to work from and compiled the results to make this list. You won't find any dime a dozen, tax-dodging Starbucks or any other coffee behemoths here. For us, these are the best cafes in Brighton & Hove.
10 Best Cafes in Brighton to work from
Bond St. Coffee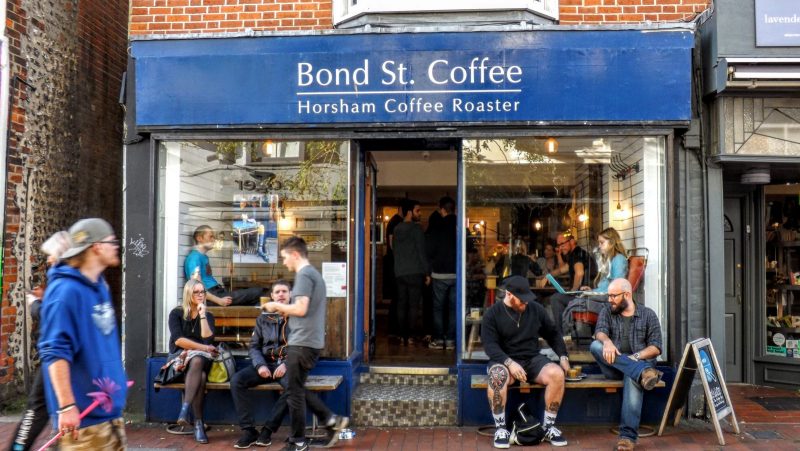 Contemporary, minimalistic and one mighty fine cup of coffee – sat right in the middle of Bond Street (as you might have guessed). Bond St. Coffee offers a cosy atmosphere, friendly staff, fine snacks and a true dedication to produce outstanding coffee. They also offer barista training courses if you want to improve your own coffee game.
Wi-Fi: Yes
Address: 15 Bond St. Brighton, BN1 1RD
Website: bondstcoffee.co.uk
Marwood
"At Marwood we're not what you would call normal'… that's some copy from Marwood's website, and boy do they mean it. Marwood is a little rough around the edges but that's what makes it fun. This place is peppered with classic movie memorabilia and random bits and bobs that look like they belong on the set of a Tim Burton film. Marwood isn't just a cafe; it's also a bar, so stay late and treat yourself to a cocktail once work's done for the day.
Wi-Fi: Yes
Address: 52 Ship St, Brighton BN1 1AF
Website: themarwood.com
Small Batch Coffee (Goldstone Villas)
They have loads of chains spread across Brighton & Hove but this one is a goodie. Why? Because it has a designated workspace. That's right! They have a room with a huge desk and enough plug sockets to power a space shuttle. Conveniently placed a stone's throw away from Hove station, it's the perfect pit stop to neck a coffee and blast out some emails before you catch the train.
Wi-Fi: Yes
Address: 68 Goldstone Villas, Hove BN3 3RU
Website: smallbatchcoffee.co.uk
Moksha
Moksha doesn't muck about when it comes to breakfast and brunch. They serve all of your faves: smoothies, homemade burgers, hash browns, pancakes… and we could keep going. 'Moksha' means release and liberation – all of their food is made using free-range eggs, coffee is served with organic milk, and all food is made on site.
Wi-Fi: Yes
Address: 4-5 York Pl, Brighton BN1 4GU
Website: mokshacaffe.co.uk
The Flour Pot Bakery (Elm Grove)
It may be near the summit of one of Brighton's steepest roads but that just makes The Flour Pot Bakery experience even more enjoyable once you're there. All of Flour Pot Bakery's are a little more expensive than most of the cafes in this list, but once you taste their food and coffee – you'll know why. Take a peek at their reviews if you need more convincing before you commit to hiking up Elm Grove.
Wi-Fi: Yes
Address: 141 Dyke Rd, Hove BN3 1TJ
Website: flour-pot.co.uk
Twin Pines
This is easily one of the best looking cafes in Brighton, with a slick art deco interior to enjoy over two floors – but… is it style over substance? No! Twin Pines delivers on both fronts. Sit upstairs to people watch on one of Brighton's most famous streets, or head downstairs to work with minimal distractions in a clean, cosy environment. Their coffee is amazing, and it's frequently changed but that's not a problem – it's all killer, no filler – truly one of the best cafes in Brighton.
Wi-Fi: Yes
Address: 11 St James's St, Brighton BN2 1RE
Website: twinpinescoffee.com
Starfish and Coffee
A firm favourite with the MacMan team, this is the first place we recommend to customers when they ask where to grab a coffee. Starfish and Coffee is a true gem, opposite the lovely Queens Park, and just a few minutes walk from our store. They take pride in their brunch with their hashtag, '#BrunchLikeABoss'. Like a boss, indeed. Their brunch menu has some classic English options and they've put their stamp on each of them. Delicious.
Wi-Fi: Yes
Address: 32 Egremont Pl, Brighton BN2 0GA
Website: starfishandcoffee.cafe
Small Batch Coffee (Western Road)
This is one of their bigger chains, on the main road that joins Brighton & Hove together, so it gets pretty busy – which isn't a bad thing. Some like working amongst the buzz of an energetic room. This chain really is a beautiful building, and you can strike gold if you grab a stall on their patio which overlooks the sea. The stalls are snapped up fast when the weather's good. So get there early with a fully-juiced laptop as there aren't any plug sockets outside.
Wi-Fi: Yes
Address: 111 Western Rd, Hove, Brighton BN1 2AA
Website: smallbatchcoffee.co.uk
Pelicano
Pelicano is a cute little cafe spread across three floors with additional seating in the street and back garden. They offer a fine selection of cakes, and the staff will be happy to go full coffee-geek to answer your questions about their delicious coffee on offer. All hot drinks are accompanied with a unique vintage spoon. Great food. Great coffee. Great staff. And great spoons. What more do you need, really?
Wi-Fi: Yes
Address: 28 Sydney St, Brighton BN1 4EP
Website: pelicanohouse.com
Alcampo Lounge (London Road)
Lots of cafes want to be 'your second lounge' but Alcampo Lounge has pulled it off. It's a huge cafe, with enough space to cater for a team of 100 or more. They're open until 11 pm, 7 days a week, and with a huge variety of food options for those with dietary requirements, it easily makes our list of the best cafes in Brighton. It has something for everyone, an easy place to get lost in your work with just the right amount of background noise to focus.
Wi-Fi: Yes
Address: 84-86 London Rd, Brighton BN1 4JF
Website: thelounges.co.uk/alcampo
Those are our top 10 best cafes in Brighton – so who's in your top 10? Let us know on Facebook and we'll be sure to pay them a visit.